Tresorit cannot be updated?
There might be occasions when Tresorit cannot be updated on or removed from your Windows computer.
First, please try to remove Tresorit completely from your device before installing the latest version from our website https://tresorit.com/download.
Handling Error 1714 while trying to update
This error occurs when the uninstaller is deleted from a Windows system folder.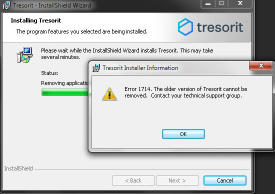 Windows 7 and 8
If you're using Tresorit on older versions of Windows than Windows 10, we would like to ask you to run this FixIt tool. With this tool you can uninstall Tresorit, and then install the latest version from the website.
Windows 10
Unfortunately the FixIt tool does not work with Windows 10, so in that case please use another tool here:
https://support.microsoft.com/en-au/help/17588/fix-problems-that-block-programs-from-being-installed-or-removed
If this does not solve your issue, please download some of the available 3rd party uninstaller apps. The ones we recommend are IObit Uninstaller, or Revo Uninstaller, that will remove everything associated with Tresorit.
After that, please download and install the latest client from our website: https://tresorit.com/download
We hope we could help, thank you very much for your cooperation!