Tresorit Premium and Tresorit for Business users: If you own a shared folder, you can prevent other members from adding, editing, or deleting files in the folder by setting view-only permissions. 
Note: The Default rights are considered on a tresor level. Editors and Managers can delete files but only the tresor owner can delete the complete tresor from the cloud.
In this tutorial, learn more about:
Who can I share my tresors with?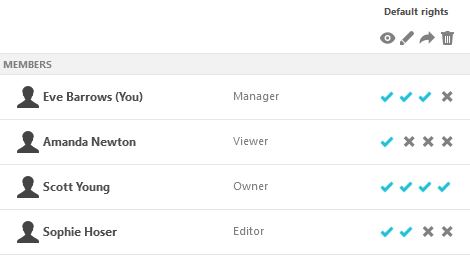 You can send invitations to anyone, even those who don't have Tresorit account yet. Those who are not yet Tresorit users will have to sign up for Tresorit to get full access to files in the shared tresor. All invitees will receive an email which describes steps they need to take and the invitation will pop-up in their sync clients too. Read more about sharing options with Tresorit on Windows and on Mac.
Can I limit who can change files or invite new members to my tresors? What are user roles?
User roles define the set of permissions granted by the owner of the tresor to invited users with whom the tresor is shared. Each invitee can be granted a role among the set of manager, editor or viewer. As different roles allow rather different user actions in relation to the shared tresor, it is vital to think carefully about what role a user might be granted. In order to maximize customizability, user roles can be changed by the owner of tresor at any time.
Who is the Owner? The owner is the person who created the tresor. The owner has all possible permissions to his/her tresor, including sharing with user role granting, and deletion. There is exactly one owner of any tresor, but this attribute can be passed on. Only the owner can transfer this role, under the sharing settings in the Tresorit apps. Please note that when the transfer is done only the new owner will have rights to manage the ownership of the tresor. 
What permission does a Manager have? Manager is the most powerful role after that of the owner. A manager is able to read, write and delete the content of the shared tresor, and also to share the tresor with further users. Furthermore, he/she is able to grant Editor and Viewer roles for further invitees.
What permissions does an Editor have? Editor is a less powerful role than the manager role, but superior to the Viewr role. An editor is able to read, write and delete the content of the shared tresor, but cannot share the tresor with further members.
What permissions does a Viewer have? Viewer is the least powerful role, allowing for less user actions than the manager or editor roles. Viewer role only grants view permission to the content of the shared tresor for the invitee. In case you are unsure which role to grant to the invitee, you should prefer appointing him/her viewer and change his/her role later on if needed.
How can I change someone's role?
Users can leave a tresor whenever they want and their access can be changed or revoked anytime. Mouse over the tresor in the list and click on the <Share> icon. Select the user from the <Members> list whose role you want to change. Click on the person's actual role to open a drop-down menu with other options and, select the role you want to grant.  At the end of the process please click <Apply> to save your changes.
Can I revoke someone's access to a tresor?
You can revoke any users' access if you click on the <Remove> button at the end of the user's line in the tresor <Members> list.  Please confirm permission revocation in the pop-up window by clicking <Remove>. The member of the tresor will no longer have access to files stored in a cloud and will not receive changes and updates to files. Please note that this action does not have any effect on files synced to a users' devices.
I am a Tresorit for Business user. How do permission levels work in DRM protected tresors?
Tresorit Digital Rights Management (DRM) adds an extra layer of protection to files stored in Tresorit. From DRM enabled tresors, Editors and Viewers are prevented from saving, printing, copying or taking screenshots of DRM protected files. Further, to prevent accidental disclosure of confidential DRM files, a DRM protected file attached to an email cannot be opened.
I am a Tresorit Basic user. What are my sharing options?
Everyone who has access to your shared tresors, will be able to add, edit, or delete files in those folders. We recommend signing up to one of our Trials to experiment with advanced sharing options.
Thanks for your attention.  Please discover our Knowledge Base for more useful information and feel free to contact us with further questions.