Many of you have noticed that there may be a slight difference between the storage capacity stated in the Tresorit app and the one reported by OSX, iOS or any Linux OS. This is due to your Operating Systems decision to process and store data in a different format than the industry standard.
Capacity stated on OS X, iOS or Linux.
Storage device manufacturers measure capacity using the decimal system (base 10), so 1 gigabyte (GB) is calculated as exactly 1,000,000,000 bytes. The capacity of the storage media for example in your Mac, iPad, iPod, iPhone or any other Apple hardware, is measured using this decimal system. This is detailed on the product packaging and online through the statement "1 GB = 1 billion bytes."
However, when you view the actual storage capacity of your iPhone or iPad, the capacity is reported using the binary system (base 2) of measurement. In binary, 1 GB is calculated as 1,073,741,824 bytes.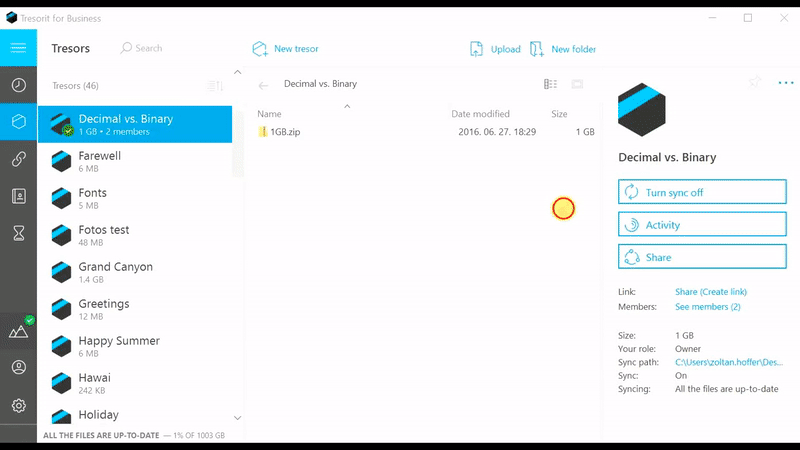 What does this mean?
The way decimal and binary numeral systems measure a GB is what causes a 32 GB data to appear as approximately 28 GB, even though the data still has 32 billion bytes (not 28 billion bytes), as reported.
As Tresorit was not designed to use Apple products' native measurement practices, its storage display will mirror these differences. Don't worry, your data is safe and nothing is missing. Note that this is only the result of measurement practices and your storage capacity is the same no matter which system (decimal or binary) is used.
Thanks for visiting our Knowledge Base.  To learn more about this issue please visit the official Apple Support.