In this tutorial, learn more about:
Invoices accompany every Tresorit upgrade and can be found under Billing on the account settings online. You will receive a Tresorit invoice for each billing period (monthly or annual). We do not provide invoices prior to a subscription purchase taking place.
Our invoices are clear, complete and transparent and you will be able to see exactly what you are paying for. 
Example of invoice: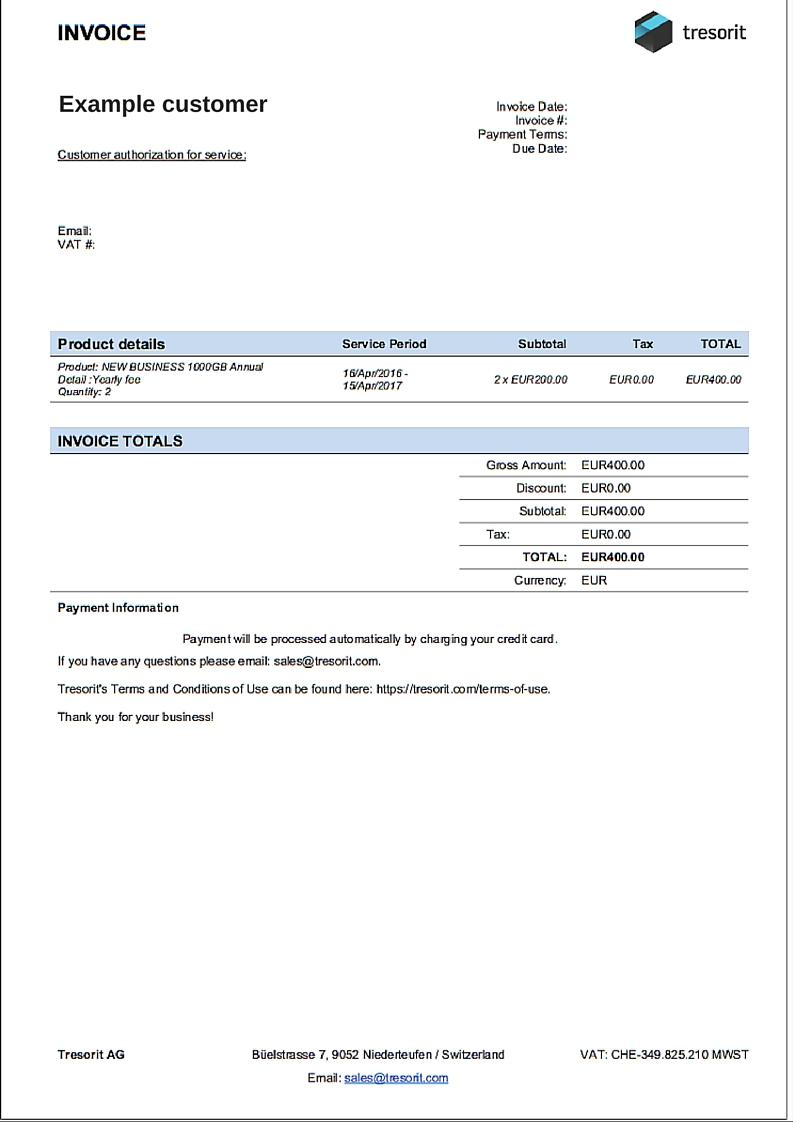 How much tax am I being charged?
Please note that the amount of tax Tresorit is required to charge varies from one country to an other. If you have any questions, please feel free to submit a support ticket to our Billing Team.
Example invoice with tax listed:

I am an Admin of my Tresorit for Business plan. Can I manage my company's billing info?
Please also note that, for privacy reasons in case of Business Accounts, we cannot provide receipts or invoices to anyone other than the Account owner. You will need the account holder to do this for you.
Lear more about Admins role in Tresorit for Business accounts via our Knowledge Base.
Please note that only Premium and Solo accounts holders and Account owners of Business/Enterprise accounts will be able to view invoices. 
How do I view my invoices?
Sign into your Tresorit account via the Web Access.
Visit the Billing tab under your Account or Admin Center.
Scroll down to find the "Billing Information" section. Here you will be able to find a list of your current and previous invoices as well as view/download them as PDFs. 
Why is my invoice in English?
Automated invoices, due to the limitations of our accounting system are only available in English now.
Thanks for your attention.  Please discover our Knowledge Base for more useful information and feel free to contact us with further questions.