Whether it's a contract, a financial plan or a medical file, once you hit the Send button, you no longer have control over the files. With our add-in, you can secure your attachments directly from your Outlook app.
The attachment is encrypted directly on your device using end-to-end zero-knowledge encryption. Then, the add-in inserts the share link to your email body, providing you with the same level of security as in-app sharing.
Revoke access to the files you share at any time
Set an expiration date for the attachment
Limit the number of downloads
Add password protection
Supported versions
As of now, the add-in is available on Windows for Outlook versions of 10.5.5 and above. Unfortunately, this feature is not available on Mac and Linux.
How to enable Tresorit Outlook
Open Tresorit on desktop.
Click on your name in the bottom left corner.
Navigate to Application settings.
Click Advanced.
Click Install, under Tresorit Outlook add-in.
Restart Outlook.
Choose when to use Tresorit Outlook
When you first log in after you installed the add-in, you can choose when you want to use Tresorit attachments. You can change this setting later through your Outlook app.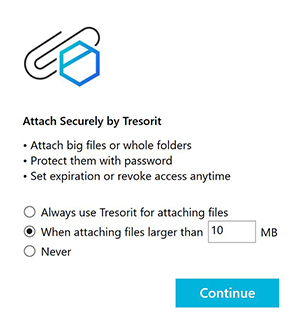 How to create secure attachments manually
When writing a new email, click Upload and attach on top.
Select a file.
Wait for the upload to complete.

📝 Note: These files will be uploaded to your Other Uploads folder in Tresorit; you can access or edit them any time.

Secure your link by setting up an expiration date, download limit or password protection.

Click Create.

📝Note: Tresorit clients will remember your local settings the next time you create a link.

The add-in will paste the link into the body of your message.
---
Still have questions left? Drop us a line