With Tresorit you can create a 'tresor', a shareable secure online folder from any of your local folders. This means that you don't have to shuffle content around on your computer to new folders, nor upload it to the web. Folders & files can stay where you used them previously.
All folders you turn into a tresor will automatically sync online and the content will be available on any other computers or mobile devices linked to your Tresorit account. The application runs in the background and automatically keeps your files in sync and backed up online. It's like having the same folder on all of your computers and mobile devices at the same time.
This quick tutorial will show you how you can create a tresor on a desktop computer. If you wish to create a tresor using your mobile device, please check our other tutorials: 
There are 3 ways to create a tresor on your desktop device:
If you have successfully registered, open up the Tresorit app. You will find your default tresor, which we created for you and it's content also displayed in the Cloud Browser.   
Let's go through the 3 easy ways how you can add new tresors in Tresorit. 
1. Create a tresor with the "New tresor" button
Open the Tresorit app and click the < New tresor >  button at the end of your tresor list.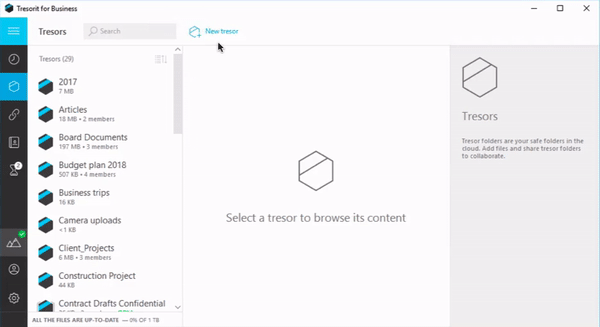 A small window pops up: Create a new folder or pick any of your existing folders in your finder from which you would like to create a tresor. You can also set up the name of the tresor here, and add others you wish to collaborate with.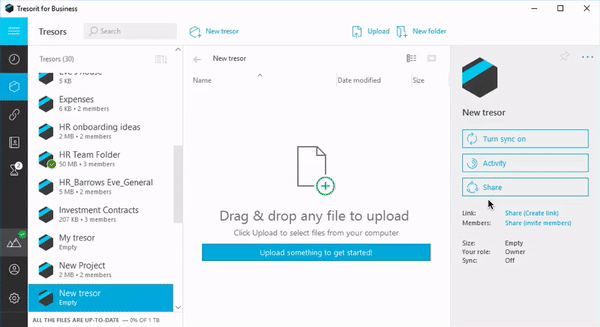 If you set up the location, the name and added collaborators, click on the <Create> button, and your tresor will be ready. 
2. Create a tresor with the Drag&Drop function
Choose a local folder on your device you wish to make a tresor out of. Open the Tresorit app then drag it and drop it in the main window of Tresorit.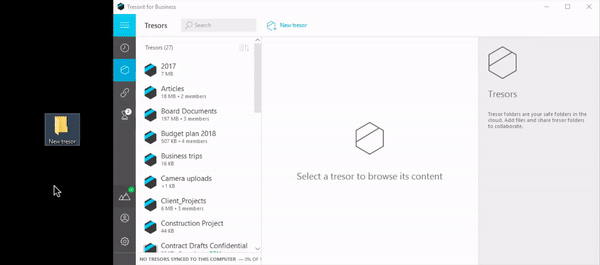 When you drop the folder, the small tresor creation window will pop up. Unlike in the previous method you won't have to define the location of your folder (since it is already set). You can name your tresor here, and add others you wish to collaborate with.   
Click on < Sync > to finish. You tresor will start syncing to the cloud. 
3. Create a tresor with right-click
Choose a local folder on your device you wish to create a tresor out of in your Windows Explorer and right-click on it. A "Create tresor" option will show up the tresor creation pop-up window in the Tresorit app. That will work exactly the same way as the other 2 solutions.
After setting up the name and sharing settings click  < Create > to start syncing your data to the cloud.
Thanks for your attention and for following our quick tutorial.
Next step: learn how to share a tresor with other people. 
Should you have any further questions, feedback or remarks, please always feel free to contact us and please check our Getting started pdf attached.