📝 Note We are rolling out Tresorit Drive 2.0, which makes installing FUSE unnecessary. Tresorit will automatically upgrade to Drive 2.0 if you are using macOs 11.3 and up. Learn more about the 2.0 upgrade here.
After installing FUSE on your Mac, you will be able to access useful Tresorit features like Direct File Open and Tresorit Drive. With FUSE, we can connect your Tresorit files to your Finder, enabling direct access to the data you store in the cloud.
Enable Direct File Open
Open Tresorit.
Click on your name in the bottom-left corner and select Preferences.
Click Advanced.
Toggle the switch next to Direct file open.
Tresorit will ask you to install FUSE on your computer. Read on to learn how you can do it.
Download and install FUSE
You need Admin rights to install and update FUSE.
Download the latest version of FUSE.
Open the .dmg file.
Click FUSE for macOS.pkg to start the installation.

Go through the installation steps.
When you arrive on this screen, check the box left of FUSE for macOS Preference Pane. With this setting, you will be able to update FUSE easily from your System Preferences later.

Use your administrator password to continue.

Finish the installation.
If this is your first time installing FUSE, you also need to enable it in System Preferences. You can do this manually yourself, or your Tresorit app will lead you through it automatically.
If you experience issues with Tresorit Drive on your Mac (for example if you can't upload or access files), you may need to update FUSE to solve the problem.
How to update FUSE
If you are running an older version of MacOS, you may see this message in your Tresorit app, asking you to update FUSE.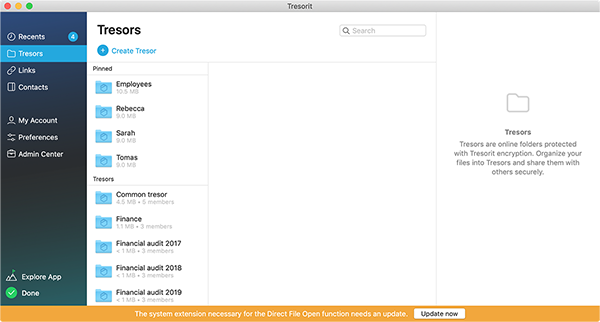 Navigate to System Preferences.
Click on the FUSE icon. If you can't see FUSE here, install it again to enable the Preference Pane.

Click Update FUSE.
Complete the steps.
All done!
---
Still have questions left? Drop us a line