See how it works:
1. What is Tresorit DRM™?
Tresorit DRM™ complements Tresorit's existing cloud-storage solution by offering more control to businesses by extending security to documents once they have been shared, and during collaboration. Tresorit DRM™ is powered by Microsoft Windows Rights Management Services (RMS) technology.
From DRM enabled tresors, Editors and Readers are prevented from saving, printing, copying or taking screenshots of DRM protected files. Further, to prevent accidential disclosure of confidential DRM files, a DRM protected file attached to an email cannot be opened.
 Once a user is removed from a DRM enabled tresor they will no longer be able to open the files from that tresor, even if previously synced to their computer.  The user's only option will be to delete those files. 
2. What does Tresorit DRM™ cost?
Tresorit DRM™ comes at no extra cost as part of the Business plan. DRM tresors can be shared with all users of Tresorit – Basic, Premium and Business.
3. Why should I enable DRM for my tresors?
Recent studies show that internal threats like employee mistakes, malicious insiders or careless business partners constitute as large a threat to sensitive data as external ones, like hackers.
Use DRM when it's imperative to keep control and restrict access to high value data.
4. How can I enable Tresorit DRM™ for my tresors?
In order to use Tresorit DRM™, enable Tresorit DRM in Settings then just click "Install DRM" and right after you get access to DRM.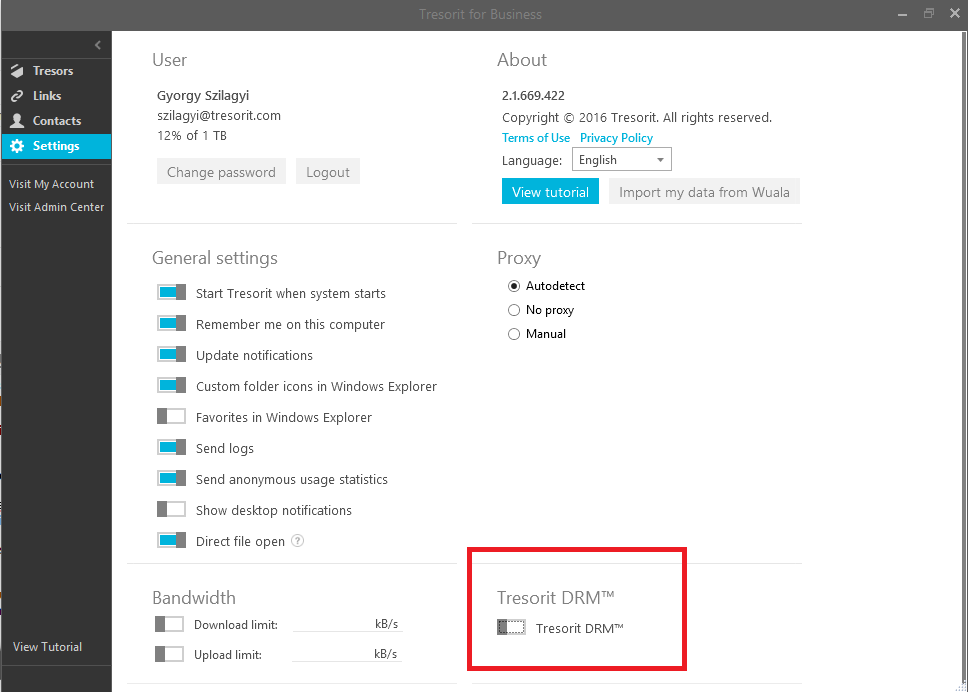 A lightweight extension will be automatically installed, which requires admin rights on your computer.
Please note that you can enable the DRM protection only for new tresors, already existing tresors cannot be protected with DRM.
5. I am logged in to Tresorit but still cannot see DRM – how can I activate it?
One must be a Business user to create a Tresorit DRM™ protected tresor. Premium and Basic users can view Tresorit DRM™ protected tresors, but they cannot create Tresorit DRM™ tresors.
6. How will I recognize DRM protected tresors in my tresor list?
The tresor icon is surrounded with a shield for DRM protected tresors.
7.  What kind of rights can I grant to users?
The chart below provides a comparison of roles and rights. 
8. Can I share DRM protected files with anyone?
Sure, everyone you share with can see and access the DRM protected files. However, DRM protected tresors can only be created by Tresorit Business users.
9. How do I remove someone's access to a DRM protected tresor?
Mouse over the relevant tresor, select Share, and then mouse over the person you want to remove, and click on the Remove button that appears. As in all tresors, only Owners can remove Managers, Editors and Readers, and Managers can only remove Editors and Readers.
10. If I remove a user from a tresor, can they still access the files on their device?
No, with Tresorit DRM™, you can modify or revoke access to files even if the individual you shared with synced those files to their computer or mobile device.
12. Which platforms are supported by Tresorit DRM™?
Tresorit DRM™ is currently fully enabled on computers running Windows 7, 8, 8.1 and 10 and secures documents created with Microsoft Office 2010, 2013 and 2016.
PDF files are also supported and converted to PPDF (Microsoft Rights Management PDF Protected files).
On Android, iOS and Mac OSX platforms DRM files are ready-only, but like all DRM enabled files, they cannot be opened after the shared access is removed even if synced to their computer or other. 
13. Can anyone I didn't share with access my DRM protected files?
No. Not even Tresorit or Microsoft administrators can see your data. 
14. Can I disable DRM protection?
Yes, make sure the tresor is synced to your Windows computer. Click More next to the tresor and select Remove DRM protection. Copies of your files will be created in a new folder (with DRM removed in its name) without DRM protection.
15. What happens with protected files after I remove DRM protection?
After removing DRM protection, you will have a copy of the original files in a new folder that was created automatically. The original, DRM protected files and their tresor will still be located in the same place on your device and in the cloud. You can delete the now obsolete tresor and its contents, then create a new tresor from the unprotected files.
16.  I received an error message in Office, what should I do?
Usually, the error message results from Office not decrypting your file.
If you do not have the necessary permission, ask for this right from the owner of the file.  Their email address is included in the error message.
If you have the necessary permission, log into MS Office using the credentials that you can see under Settings then Show DRM credentials.
For more information please refer to the following article: https://support.tresorit.com/hc/en-us/articles/216373818
17. DRM installation failed
If you get a "DRM installation failed" error when installing the Tresorit DRM addin please refer to the following article: https://support.tresorit.com/hc/en-us/articles/216373928
More questions?
If you have any questions about DRM not answered here, email support@tresorit.com!