Tresorit is an online cloud storage that uses end-to-end encryption to guarantee the safety of all the data you share and store.
Your data is safe with us
We can assure you that your files cannot be modified without your knowledge, even if our system was hacked. Only you have the keys to open and share your data.
We use client-side encryption to guarantee all that. Files are secured before they leave your device and remain fully encrypted until they reach the recipient.
This means that no one (not even our developers) can access the data you store. With current technology, hacking just one file would take a lifetime.
Tresors – Your secure data vaults
Tresors are secure, encrypted parent folders to your files. Any local folder on your computer can be turned into a tresor which means the contents of that folder will be encrypted and protected in the cloud. You don't need to change your existing folder structure – any file and folder can be synced directly, without moving them to a central location.
Things you can do with tresors:
Share with links
Invite collaborators
Sync files between your devices
Backup data in the cloud
Syncing
Access your most recent files from all devices by syncing them to your Tresorit account. Each time you modify something on your synced local folders, the changes are uploaded online.
Synced tresors are marked with a green checkmark


You have the option to turn on selective sync on tresors. By using this feature, only the selected subfolders will sync to Tresorit on your computer.
Selectively synced tresors are marked with an orange checkmark


Sharing your content with others
With Tresorit, your files are protected even if they leave your device. You have control over who can access shared files and folders.
There are two ways to share your content. You can either invite people to collaborate or you can create a share link. Both methods are secure and easy to setup, but they have key differences.
Inviting collaborators
If you share a tresor with other people the files will appear in their Tresorit folders as they do in yours. This option is only available for tresors and invitees need to set up a Tresorit account first before they can accept the invitation.
Sharing with links
If you share your content using this method, anyone who has the share link can access your files, even without a Tresorit account. This is available for tresors, folders, and files.
Access permissions
When sharing tresors, you need to define access permissions for all collaborators. You can choose between three settings: manager, editor, and viewer.
Managers can read, change and re-share files.
Editors can read and modify content.
Viewers can read files.
Tresorit plans
We offer subscription packages for both teams and individuals. All plans have a unique feature list, tailored to fit the taste of teams in all sizes and individuals alike.
Team subscriptions are equipped with an Admin Center for managing users, central billing and policies.
Invite users
It's time to introduce us to your team! ❤️ As an admin, you can invite new users to join your subscription. Check the number of available licenses on the bottom left of your Admin Center, click Invite now and add the email addresses.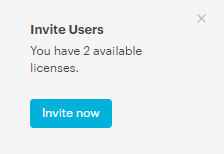 In a nutshell
Tresorit is a secure place for your important files and folders in the cloud. You can share content with others, collaborate, and manage who can see or edit your files.
And with syncing enabled, you can access your most recent files online from all your devices, without the risk of a data breach.
Are you ready to get started?