Scan and upload notes, documents, and whiteboards to the cloud using your phone. After you're done with scanning, you can share the documents with colleagues and partners immediately through Tresorit.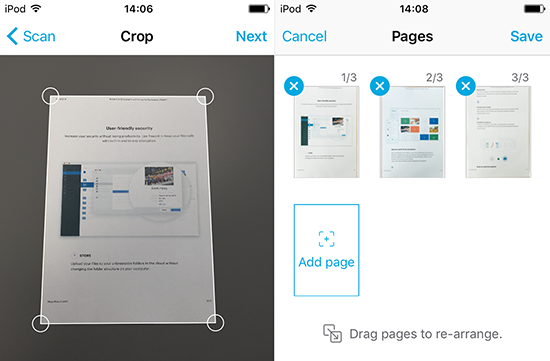 How it works?
Tresorit will use your phone's camera to detect the document's edges automatically. Then you can choose to crop the image manually or advance to the next step, where you can apply scan filters to your image.
To guarantee that your files remain confidential, Tresorit won't save local copies on your device. The scans are encrypted and uploaded to the cloud right away.
📝 Note: You can export scans to a pdf. If you scanned a single page, you'll also have an option to save it as a JPG file.
Capture modes
There are three capture modes you can choose from: automatic, manual and your camera's photo mode. At first, the scanner will try to detect and crop the document automatically. In the next step the scanner will switch to the manual setting where you can adjust the selection. You can also use the camera's default photos mode to capture a regular photo.
Edit your scans
Crop and rotate snaps before adding them to your document, or apply scan filters for a realistic touch. You can also review the document before you upload it to the cloud – rearrange the order of pages or delete scans you don't need.
How to scan documents
Open Tresorit.
Tap the plus icon at the bottom.
Tap Scan document.

Tresorit will automatically detect the edges of your document.
Crop the scan.
Tap Next.
Apply a filter.
Tap Next.
Add another page or tap Save to finish.
Name your file and choose a file type (JPG is only available for single-page scans).

Tap Save.
---
Still have questions left? Drop us a line