By enabling selective sync in a tresor, you can exclude specific files and subfolders from syncing to your computer, which comes in handy if you don't have enough space on your hard drive to store all the data.
Duplicates and empty folders
Sometimes, when you try to rename an item in a tresor, you may end up with duplicates. The same issue happens when you delete a folder, but it reappears empty on your list. This issue occurs in shared tresors when the modified item is synced and currently in use by another member.
💡 Why is that? Files and folders that are used by an application cannot be modified or deleted from your computer. When a synced file is currently in use by another user, modifications you make won't sync on their computer until they close the file. During that time, the old file and its parent folder are still available on their computer and will sync to the cloud, creating an empty folder.
How to fix it
First, you should wait until the other member stops using the files. In most cases, this will solve the issue, and your changes will apply the next time Tresorit syncs.
But, if they modified the file in the meantime and saved their changes – instead of undoing those changes or overwriting another file – it will be uploaded to cloud in its old directory. This creates a duplicate file: one located in the renamed folder and one in the old one. In this case, you will need to compare both files and move the most recent version to the new, renamed folder.
Deleted parent folder
When a tresor is shared, each user can apply a unique Selective Sync setup that fits their own workflow the best. You also have an option to sync folders without their parent folder, creating a new, shorter folder structure on your computer.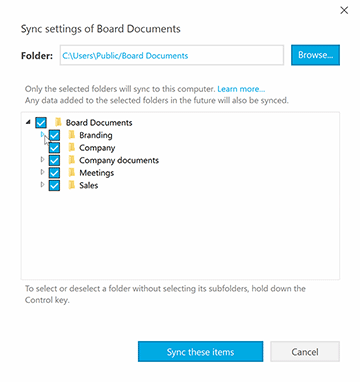 Be careful when you delete a folder
If you delete a subfolder, all of its content will be deleted from the cloud – even the files that were not synced on your computer.
In this case, the sync will cause the folder structure in the application to disappear with the data deleted. However, after a short while, the folder structure will re-appear with all the folders empty.
How to fix it
If you happened to accidentally delete more files from the cloud that you originally planned to, you can restore them.
🚒 Related article: Restoring deleted files and folders
---
Still have questions left? Drop us a line