2-Step Verification is an additional security feature for your Tresorit account that is designed to prevent anyone accessing your account, even if they hold the password.
In this tutorial, learn more about:
Why should I use two-step verification?
2-Step Verification provides an extra layer of protection. In addition to your usual password, 2-Step Verification provides a second, randomly generated, password. As your password is the key to your files, it is highly recommended to secure it with an extra lock.
How does it work?
When you set up 2-Step Verification one or more your trusted devices must be registered. Then, anytime you sign in to Tresorit, you will need to verify your identity by performing one of the following actions, depending on the preferences you set. 
Enter code received via SMS
Enter code receive via email
Enter code via a verification app
Enter code received via call
How do I set up the two-step verification?
1. Please log into Tresorit from a desktop computer
2. Click on <Visit my account>
3. Click on <Security>
4. Under 2-Step Verification please activate it and follow the steps (Please note that if you are not in a Business Group then first you need to use the Google Authenticator and then you can choose between the different methods).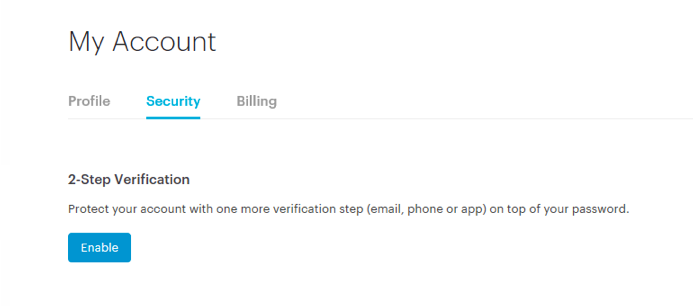 5. After clicking on <Activate 2-Step Verification> please set up your mobile phone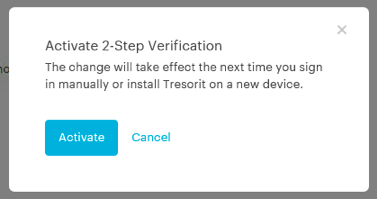 How to set up a backup phone number?
A backup phone number is useful in case your primary phone is unavailable when you are logging in to your account. We recommend setting up a backup phone, so Tresorit can send you another verification code. Your backup phone can be entered on the same Security page where you activated 2-Step Verification.
How to set up secondary verification methods?
There are cases when primary verification method may fail or be unavailable when you need to access your Tresorit account. Set up a secondary verification method:
<Visit My Account>.
Choose <2-Step verification> under <Security> and provide information to another verification method.
Please note: if you are not under a Business Plan then you first need to use the Google Authenticator, then you can choose between the different methods.
How do I change my primary verification method?
Log into Tresorit from a desktop

computer and select <My account>. You can also directly visit the <My account> section via the Web Access. 

Select <Security> from the menu options.

Under <2-Step Verification>, please select <Change Settings>

Hover over the activated authentication method and click <Set as Primary> when the option appears.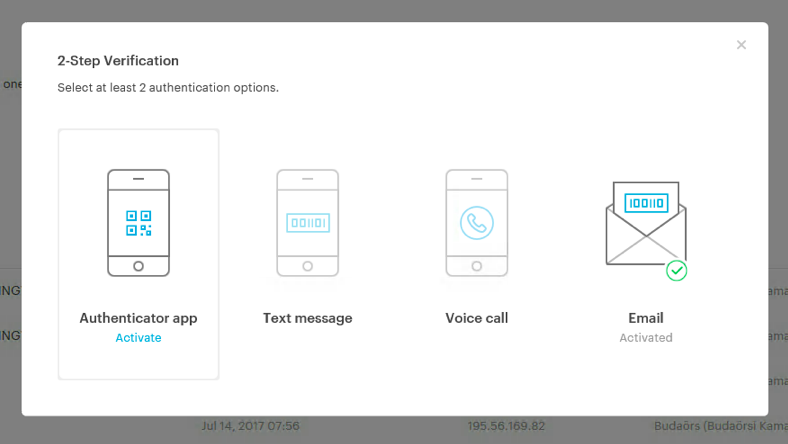 What type of phone can be used with 2-Step verification?
Any phone capable of receiving SMS (text) messages.
What to do if my primary verification method fails?
If you have a secondary verification method set up, click <Other verification options> on the Tresorit login screen and choose an option for receiving your code: SMS, voice call, authentication app or email. 
Thank you very much for adding an extra layer of security to your files, we believe you can be safe in the cloud. If you have any questions or feedback, please always feel free to contact us.