Admins have various roles in their organization. Besides managing the subscription, like inviting new users and taking care of the billing, they also have an overview on how their team uses Tresorit.
Subscription summary
On your dashboard you will get an overview of what's happening in your account.
Activity report: The activity report shows a list of the most important subscription-related events. You can export the report as a CSV file.
Account overview: Oversee the most important user statistics such as the number of tresors created and used, devices, web sessions and used space.
User account details
You can check the profile of users in your subscription by clicking their name under the Users tab.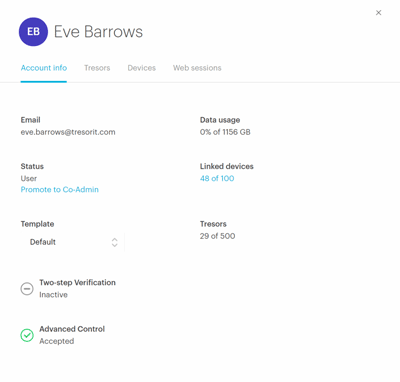 Account info
Folders
Devices
Web sessions
Admins have access to basic details about a user's specific usage and settings data under the Account info section. This is where Admins can promote users to co-Admins or assign a user to another policy template.
The list of all folders a specific user owns or has access to. You can see all members and their permission level if you hover over a folder's name and click Members.
This feature will come in especially handy when someone is leaving the organization. Admins can track the name of the folders created by the user and request an ownership transfer as a part of the off-boarding process.
This is the list of mobile and desktop devices the user used to sign in to Tresorit. Admins can remove and unlink any of these devices.
This is the list of browsers and IP addresses that were used to sign in to Tresorit Web Access. Each session can be unlinked and removed from the list.
---
Still have questions left? Drop us a line