This feature is available ✔️ for:
Role: Subscription Owner
Plan: Business Plus, Enterprise
Domain verification allows Tresorit Admins to verify ownership of an email domain associated with their Tresorit subscription to unlock domain management features such as domain control and user discovery.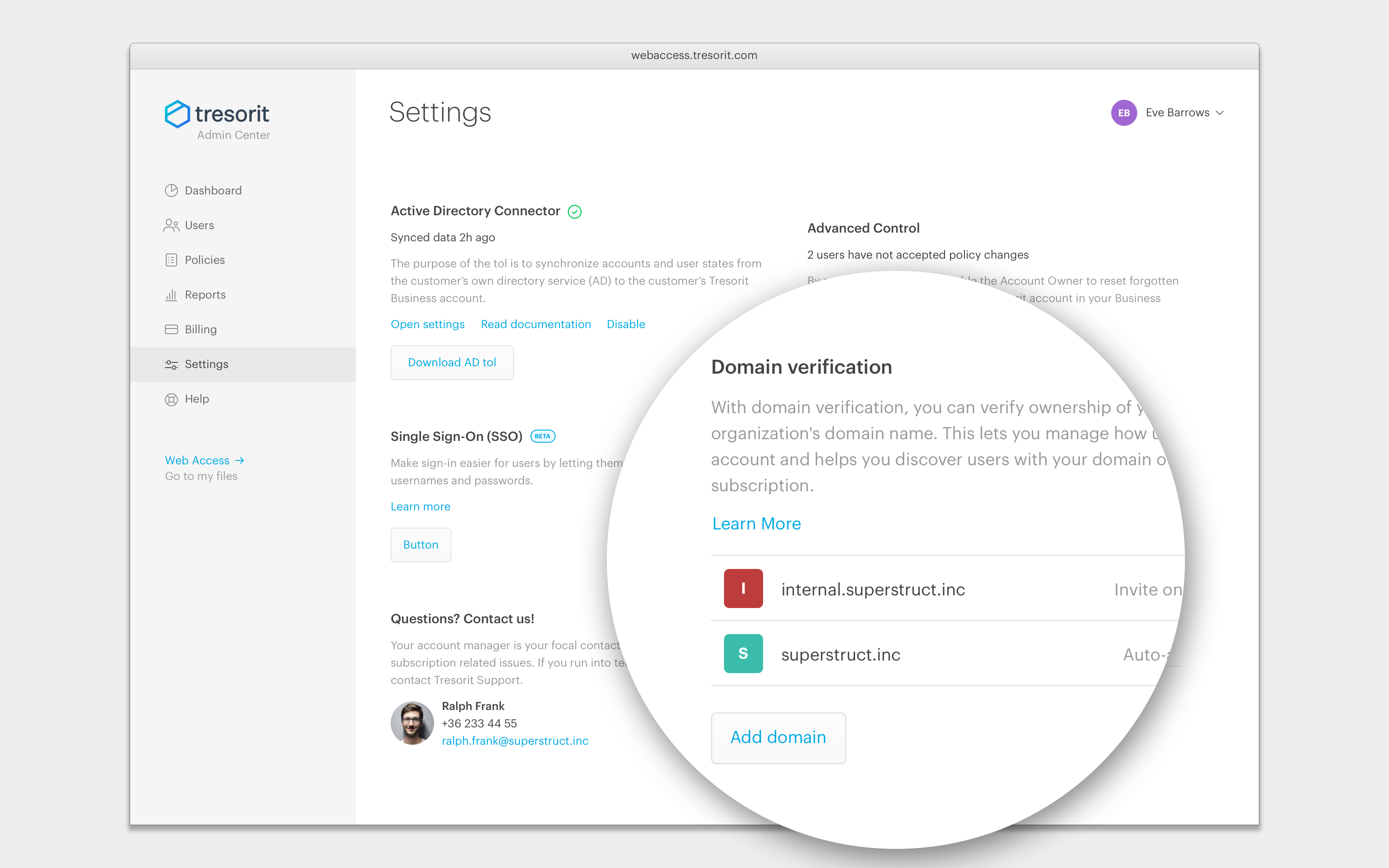 Verifying your organization's email domain helps you to:
discover all Tresorit accounts that are not part of the company subscription to ensure no information is being shared without central control
ensure all users are in a single team subscription, and easily roll out policies and settings to the whole company
gain a complete view of all users' Tresorit subscription usage using a powerful suite of advanced reporting and tracking capabilities
simplify the offboarding of employees once the account is no longer needed
How to verify email domain ownership
Head to the Settings tab in your Admin Center.
Navigate to Domain verification.
Click Add domain
Add the domain for which you wish to verify your ownership.
Set up the following details in your domain provider's DNS. You can find more information about the process of adding a TXT record here. In case your domain is managed by an external provider, please, reach out to them to insert the generated TXT record.
After a successful verification you can apply rules for the new registration with your email domain.
📝 Note: If you wish to check the success of the verification you can do it here.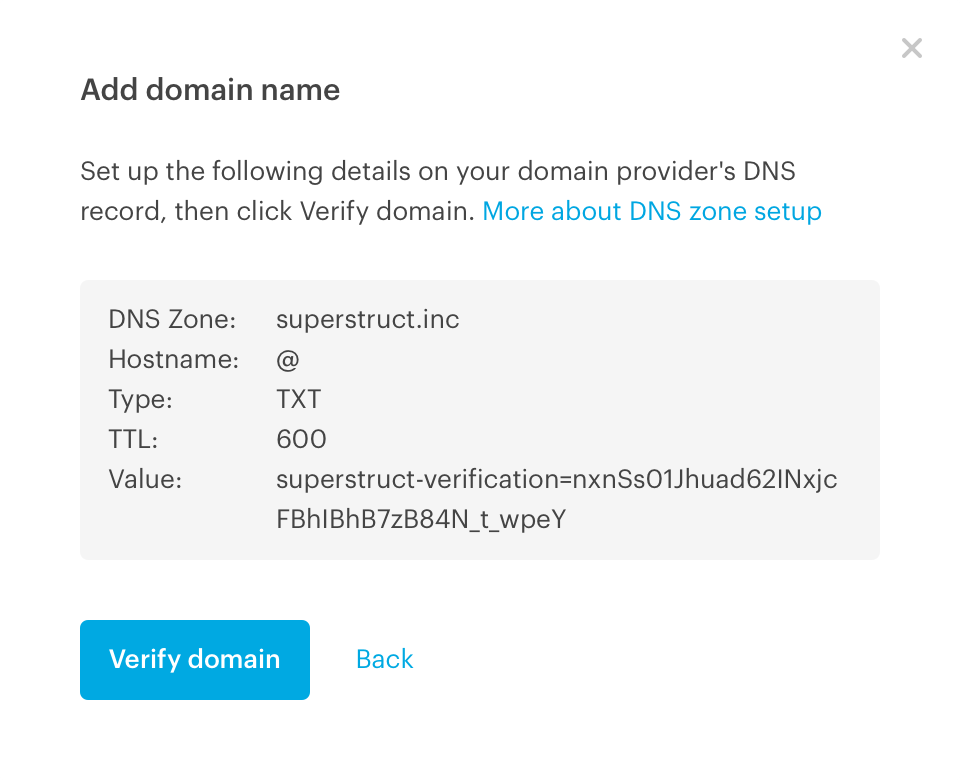 📝 Note: It might take several hours to check the record in the DNS, it depends on how fast these changes can go live in the Domain Name System.
After a successful verification the TXT record can be removed from the domain to avoid targeted phishing mails from malicious sources.
Handling of new registration
Tresorit offers three options to manage new Tresorit registrations once your organization's domain ownership is successfully claimed. The options are designed to help Admins to keep control. You can update your selected option any time.
Multiple business subscriptions can verify the same domain. We support customers where different business units would use different Tresorit subscriptions with a limitation that only one of the subscriptions can have the Add to subscription automatically setting.
Invite only registration: Users can register to Tresorit with an email from your verified domain only if they have been invited. If a user tries to register with a company email address which falls under this restriction two options will be served. They can request access to the business subscription or create an account with a personal email address.
Add to subscription automatically: Users who register to Tresorit with an email from your verified domain will automatically added to your subscription in case there are available licenses. The Default policy template will be applied to these new users and no folders will be shared with them automatically.
Do not add to subscription: Users who register to Tresorit with an email from your verified domain will be allowed to create an independent account. If you want them to join your subscription you need to invite them via the Users tab in your Admin Center.
User filtering based on email domains
After at least one email domain is verified in your Tresorit subscription the users can be filtered on the Users tab based on their domains, whether they belong to a owned domain or an external one.
Invite users, who already have a Tresorit account to your subscription
Once you verified your domain ownership, we provide you with a list of users who already registered to Tresorit with your domain. You can access this list later on the Users tab in the Admin Center and easily invite them to your subscription.
There are cases when you can't invite users.
The user have their own subscription. To resolve this the affected user needs to cancel their subscription and then will be allowed to join the business subscription.
The user is a member of another business subscription. It can be intentional in case the company owns multiple Tresorit subscriptions or if the user collaborates with an external partner of yours in their subscription.
📝 Note: Domain verification is required to enable custom domain for links in Enterprise subscriptions. For more information on the setup visit How to set up custom domain for links.