Emails are marked as spam for several reasons. If you don't want to miss important notifications and product updates, check your options below.
Check your inbox
Check the Junk or Spam folder of the email client you are using. Also, the emails might have been filtered, make sure to check your promotions tab and inbox groups.
Check your email settings
Head to your Account page to set what kind of emails you want to receive from Tresorit. We advise you to always keep Security Alerts turned on.
📝 Note: Crucial information like billing and login-related emails cannot be turned off.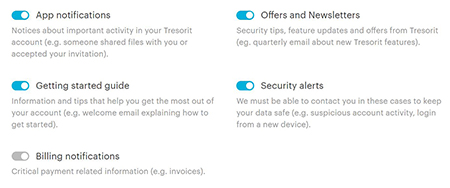 Add Tresorit to your address book
If you would like to make sure that you receive all important notifications add team@tresorit.com to the address book of your email client. These tutorials will show you how you can do that in Microsoft Outlook, Apple Mail and Gmail.
For admins: whitelist Tresorit emails
Ask your IT team to whitelist team@tresorit.com on your company's email domain. This way you can make sure that your colleagues are receiving the information they need.
---
Still have questions left? Drop us a line